2009-08-17 - On Our Next Episode . . .
2009-06-12 - RetroReflectionReaction
2009-04-13 - The Me Decade
2009-03-03 - Super Powered Sounds #3
2009-03-02 - Super Powered Sounds #2
Click Here For Tasty Popsicles . . . or, you know, a Random Entry
QUOTES! V.1
QUOTES! V.2
QUOTES! V.3
QUOTES! V.4
This Is Summer (e)
2007-07-17 - 11:49 p.m.
Mike Lowell? Don't ever leave. I . . . I love you.
Listening To: The pulsating rhythms of the Vornado
Quote:"The artist gives me a 40 oz., tells me to stick it in my cooter & calls it a 'metaphor'!"- Beth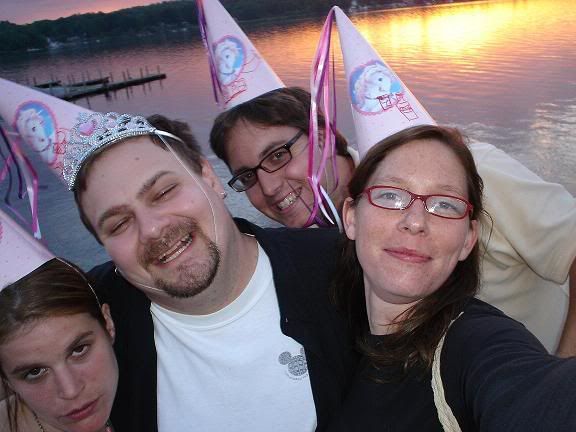 Ricky's 29th birthday is being celebrated in a variety of locations ranging from China Gardens, to Burger King parking lots, to the Weirs during bike week. Ahem, Bike Week. It loses some of it's oily grandeur when it's in lowercase. So does archduke ferdinand. Which doesn't fit. But Snorts finds Archduke jokes funny and it's his birthday and that's what counts. Beth has decorated all the pink pony party hats for us. They're all themed fantastically inappropriately. Monique is getting in constant trouble for her flargrant abuse of the party favors. Snorts seems to be having a time of it. Except for that brief, shining, Wembley-esque moment when we make him stop in the middle of a bridge while a train rumbles below us so we can get a photo opportunity in a cartoon graveyard. We are taking video footage of the skankathon that is the Weirs. Monique cajoles cops into taking pictures with her & Beth, and worst of all? She (Monique) keeps telling strangers that it's HER birthday! Snorts don't be going for that jive. We even make a late night visit to Patrick's for birthday shots and indoor fireworks (again, more Monique-caused flagrant firework flouting) The four of us get along like a well-oiled friend machine that gets along really well. I enjoy every god-damned leather soaked, silly string erupting minute of it.
This is Summer.
It's been real,
Lemon
0 comments so far
<-- Back to the Salt Mines! - Onward, to the Bee-Mobile! -->
© 2002 - 2009 ZQF8